This far infrared sauna includes everything you need to enjoy a sauna session in the privacy of your own home.
Relax in this sauna after a long day of work by reading books, enjoying music, working on your phone, watching a movie, and more.
Included is a heating foot pad mat which helps blood circulation and adds to personal wellness, detoxification, weight reduction, weariness, and stress relief.
Immerse your entire body in the Portable Far Infrared Sauna. It includes easy-access hand zippers for reading books and magazines, as well as a wired controller for timer and auto heat settings. Unlike other saunas, which require you to construct your own sauna room using your own stool or chair, this sauna comes with a foldable sauna room.
Sweating in the full-size portable infrared heating sauna will burn calories. This personal home spa sauna burns fat and causes you to sweat, resulting in weight loss.
This portable sauna with a heated foot mat and portable chair is the greatest way to stay fit. This is a portable steam sauna that you may use whenever you need to enjoy sauna service at your own home. You may also simply set the time and temperature by yourself using the remote control. This full-size personal portable sauna features an easy-access sit-in sauna style and a small spa size that is ideal for in-home use.
Features:
Portable, Personal Home Sauna Style Instant Access Sit-in Sauna Style Compact Spa Size Ideal for In-Home Use Detoxifying & Soothing Infrared Heated Body Therapy High-Powered Heating Element with Foldable Chair for Convenient Seating Energy & Power Efficient Design, Low-Cost Heating Sauna Wired Controller For Timer & Auto Heat Setting Integrated Foot Pad Heating Mat Used For Personal Health, Detox, Weight Loss, Fatigue & Stress Relief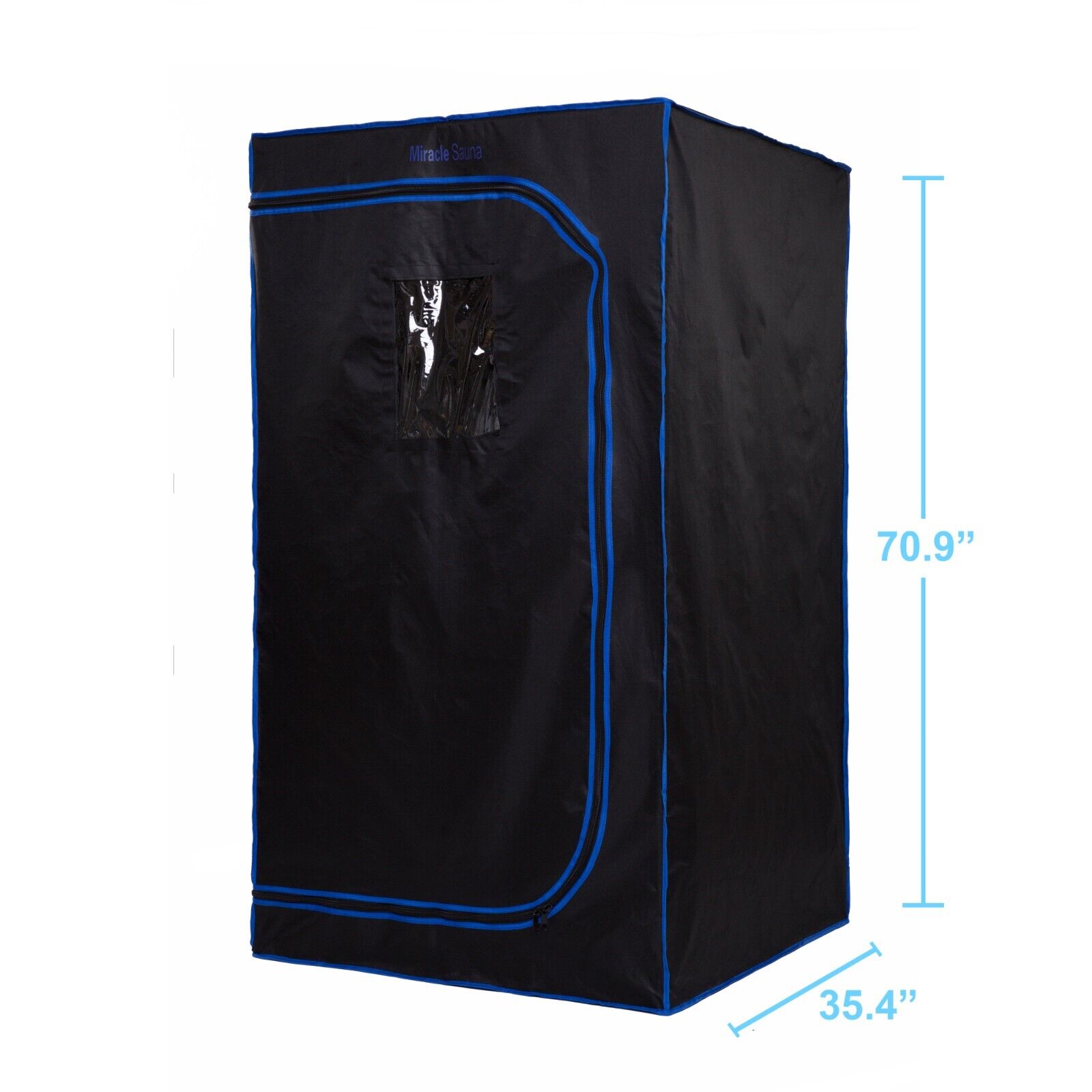 Number of Items in Set: 1
Installation: Walk-In
Opening Mechanism: Walk-In
Color: Black
Material: Aluminum, Metal, Oxford, Fabric, Acrylic
Item Length: 104
Installation Area: Indoor
Brand: SA Sauna
Seating Capacity: 1-3
Type: Infrared Cabin
Building Style: Portable
Voltage: 110 V
Item Height: 18
Manufacturer: SA Sauna
Heating Method: Infrared
Country/Region of Manufacture: China
Power Consumption: 1000w
Item Width: 43
Item Weight: 15.4KG